Celebrating Professor D.K.D.D. Jayasena's Remarkable Achievement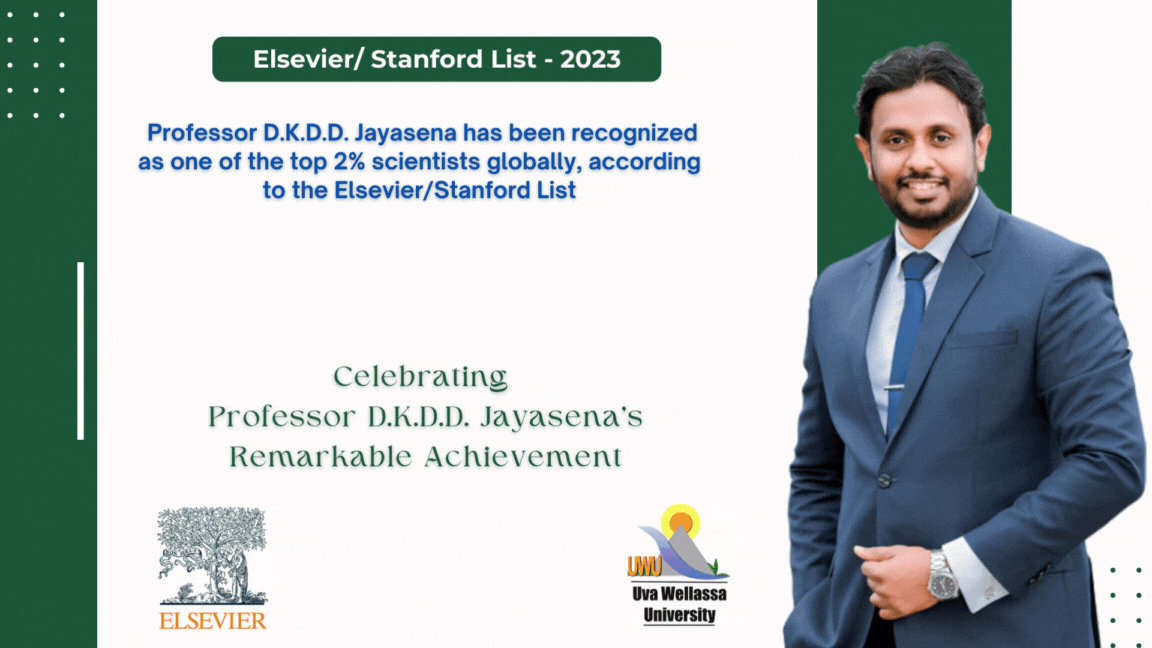 We are thrilled to extend our heartfelt congratulations to Professor D.K.D.D. Jayasena from the Uva Wellassa University (UWU) of Sri Lanka for his outstanding accomplishment. He has been named among the world's top 2% scientists, a prestigious recognition published by Elsevier. This award is a testament to his remarkable contributions in the field of Animal Science. Professor Jayasena is currently affiliated with the Department of Animal Science in the Faculty of Animal Science and Export Agriculture.
The Elsevier/Stanford List, derived from the extensive Scopus database, incorporates scholars across diverse fields of research. This esteemed acknowledgment underscores Professor Jayasena's substantial impact in academia, as evidenced by factors such as citations received, the influential h-index, and the field-normalized citation impact, collectively evaluated based on the composite indicator called the c-score. The c-score is crafted to offer a broader assessment of scientific influence compared to conventional measures like the overall citation count. 
Among a select group of 42 distinguished researchers from Sri Lanka featured in this elite 2% category, Professor Jayasena's inclusion is a source of immense pride for the Uva Wellassa University and the entire scientific community of Sri Lanka. His achievement reflects the university's commitment to fostering cutting-edge research of the highest caliber. This achievement not only elevates his status but also serves as an inspiration for aspiring scholars and researchers. The recognition is not only a personal triumph for Professor Jayasena but also a significant milestone for UWU as a whole. It highlights the exemplary standards of research excellence upheld at UWU and the solid dedication of the distinguished faculty and the department.
This esteemed honor places Professor D.K.D.D. Jayasena on a global platform, signifying his influence and impact in the realm of scientific inquiry. It provides an invaluable resource for identifying trailblazing scientists and fostering collaborations that exceed borders. We extend our warmest congratulations once again to Professor Jayasena, celebrating his exceptional contributions to the world of academia and research.
https://elsevier.digitalcommonsdata.com/datasets/btchxktzyw/6