---
01. Book Analysis (Muqadimmah) Ibn Khaldun: Application Based on
Entrepreneurship
Muhammad Arsyad Hafizuddin@Muhammad Lutfi bin Abdul Lattif
Sultan Sharif Ali Islamic University, Faculty of Islamic Development Management, Brunei Darussalam
INFORMATION
Journal Title: Journal of Management and Tourism Research
Volume : 3 Issue : 2
Page : 1 – 8
Submitted: June 06, 2020; Revised: Oct 05, 2020; Accepted: Oct 15, 2020
Correspondence :  18MR404@siswa.unissa.edu.bn
ABSTRACT
Nowadays Muslim and non-Muslim scholars are still doing studied and debated critically on the masterpiece of Ibn Khaldun namely Muqadimmah. The Muqadimmah is a book written by Islamic Scholar name Ibn Khaldun which records an early view of universal histories such as Islamic theology, historiography, the philosophy of history, economics, political theory, and ecology. Ibn Khaldun conceived a new philosophy known as 'ilm al-'umran, an idea designed specifically to address the problems of society and nation in development. In summary Ibn Khaldun's' philosophy of society covers a varied range of history, politics, geography, sociology, economics, religion, and science. These fields focus on societal, humanitarian, and national issues and their relation to the laws of nature and social events ranging from people who live in the desert to urban life and from one place to another up onto the international level. This paper discussed entrepreneurship aspects according to Ibn Khaldun's philosophy. The method used is refer to scientific material related on entrepreneurship. The theory discussed in this paper will enhance the knowledge to entrepreneurs in the field of a viable business. This study has successfully inferred the relevance of Ibn Khaldun's philosophy as a systematic study on entrepreneurship as it is widely known that entrepreneurship plays a decisive role within the economy and towards a life prosperity among the humanity including nations.
Keywords:Muqadimmah, Ibn Khaldun, Entrepreneurship.
02. Impact of Job Satisfaction and Job Stress on Job Performance of the NonExecutive Employees in Classified Hotels: With Reference to Kandy Area in Sri Lanka
Ranatunga R.A.D.D.N, Dahanayake S.N.S
Department of Tourism & Hospitality Management, Faculty of Management Studies, Rajarata University of Sri Lanka, Mihintale
INFORMATION
Journal Title: Journal of Management and Tourism Research
Volume : 3 Issue : 2
Page : 9-25
Submitted: June 06, 2020; Revised: Nov 27, 2020; Accepted: Dec 04, 2020
Correspondence :  dinunawanji@gmail.com
ABSTRACT
As the hospitality industry has become turbulent and dynamic, considering about human resources emerged as a significant area to achieve one's goals and objectives of the hospitality organizations. Hospitality industry is a highly labour intensive industry and retaining the non-executive employees is vital as they contribute the highest productivity in this sector by directly engaging with guests. Though the available literature does not provide adequate empirical evidence with respect to the impact of job satisfaction and job stress on job performance of non-executive employees in classified hotels in Kandy area. Hence, the objective of this study was to find out the impact of job satisfaction and job stress on job performance of the non-executive employees in classified hotels in Kandy area. This study was selected 150 non–executive employees as the sample and used convenience-sampling method. Furthermore, the data were collected using a structured questionnaire. The reliability static Cronbach's alpha was used to measure the internal consistencies of the questionnaire. Analyse were done using frequencies, mean, standard deviations as univariate analysis, Pearson's correlation and multiple regression analysis as multivariate analysis. The results of multiple regression analysis were shown that both job satisfaction and job stress had a significant positive impact on job performance and it emphasized that job stress highly impact on job performance than job satisfaction. According to the multiple regression analysis, the model was strongly fitted to the data and 22.5% variance of job performance was explained by job stress and job satisfaction. Therefore, it can be suggested that future researchers should consider about the other factors, which may also impact on job performance. Finally, it can be concluded that there is a significant positive impact of job stress and job satisfaction on job performance of nonexecutive employees in Classified Hotels in Kandy area. Based on the findings of the study, it is recommended for management to improve and maintain job satisfaction and job stress in the hotel industry to enrich the job performance of employees.
Keywords: Job Stress, Job satisfaction, Job Performance, Non-executive employees, Kandy area, Star Hotels
03. Exploring the Use of Intellectual Property Tools to Promote Tourism Industry in Sri Lanka: A Legal Perspective
Nishantha Sampath Punchihewa
Department of Commercial Law, Faculty of Law, University of Colombo
INFORMATION
Journal Title: Journal of Management and Tourism Research
Volume : 3 Issue : 2
Page : 26-34
Submitted: Nov 08, 2020; Revised: Nov 23, 2020; Accepted: Nov 23, 2020
Correspondence :  sampath@law.cmb.ac.lk
ABSTRACT
Tourism is one of the fastest-growing industries around the world and is a dynamic field. In Sri Lanka, the tourism sector remains a valuable source of income, through foreign exchange, and is a leader for economic growth. Sri Lanka is a country which has a glorious historical and cultural heritage that spans millennia; an island like no other, blessed with an abundance of natural beauty and attractions. In a knowledge-based economy where knowledge is used to generate wealth, intellectual property is considered as a tool for technological and socio-economic development of a country. Although Sri Lanka is one of the fastest growing tourism markets in the world and a top tourist destination, it has only just begun to develop its true potential for tourism promotion by reaping the benefits of the intellectual creations and innovations of its people. Using the intellectual property system for tourism promotion is part of a new business model for the tourism industry. In view of the above, this paper explores whether and to what extent intellectual property rights can be used to promote the tourism sector in Sri Lanka. Most importantly, the research finds that the intellectual property rights are powerful tools for strengthening the competitiveness of the businesses operating within the tourism industry. Therefore, there is an urgent need for the Sri Lankan tourism industry to effectively use different intellectual property tools in the tourism business. Undoubtedly, marring the intellectual system and tourism industry will go a long way towards creating new jobs, reducing poverty and achieving long-lasting economic growth in Sri Lanka.
Keywords:Tourism industry, Intellectual property tools, Competitive advantage, Economic growth
04. The Impact of Green Human Resource Practices on Employee Retention (With Special Reference to Regional Tea Plantation Companies in Badulla District)
Ramyakeerthana Yoganathan, J. Siyambalapitiya, R.M.M.C. Rajapaksha
Department of Management Sciences, Faculty of Management, Uva Wellassa University of Sri Lanka
INFORMATION
Journal Title: Journal of Management and Tourism Research
Volume : 3 Issue : 2
Page : 35-44
Submitted: Nov 15, 2019; Revised: May 20, 2020; Accepted: Dec 08, 2020
Correspondence :  y.ramiya@gmail.com
ABSTRACT
The environmental concern is one of the controversial issues in the tea plantation industry. Having the issues, the problem of this research have identified as there are low employee retention and poor green HR practice, which intended to test among three regional tea plantation companies in Badulla district. The research is titled "The impact of Green Human Resources Practices (GHRP) on Employee Retention with special reference to regional tea plantation companies in Badulla district. Following the plantation context, rewards and recognition, employee relation, and compensation were identified as the independent variables and employee retention was identified as the dependent variable, and the conceptual model was constructed based on the literature review. Based on the conceptual model, hypotheses were developed. As a tool, a Five-point Likert scale questionnaire was administered among 84 managerial staffs of 28 estates of three regional tea plantation companies such as Agarapathana PLC Malwatte valley PLC, and Madulsima PLC. Statistical Package for social science (SPSS) was used to analyze the data. Simple and multiple regression analyses were conducted to test the hypotheses and the impact of green HR practices on employee retention. The tests resulted in all the independent variables have above the moderately strong and positive relationship with employee retention. The coefficient of determination value interpreted that GHRP has the most impact on employee retention, and rewards and recognition, and compensation has a higher impact than employee relation does. Based on the P-value analysis, all null hypotheses were rejected, and alternative hypotheses were accepted. This research recommends future researches to test the other green HR practices with employee retention in different geographical locations.
Keywords:Green HR Practices, Rewards and Recognition, Employee Relation, Compensation, Employee Retention, Environmental Concern in Tea plantation
05. Role of Restaurant Attributes and Customer Perceived Value in Shaping Customer Satisfaction: A SEM Based Analysis in Beach Restaurants in South Coast, Sri Lanka
C. P. Danthanarayana1 and R.S.S.W. Arachchi2
1 Department of Management Studies, University College of Matara, Sri Lanka
2 Department of Tourism Management, Sabaragamuwa University of Sri Lanka, Sri Lanka
INFORMATION
Journal Title: Journal of Management and Tourism Research
Volume : 3 Issue : 2
Page : 45-59
Submitted: Submitted: Nov 29, 2020; Revised: Dec 11, 2020; Accepted: Dec 17, 2020
Correspondence : chathupiumika@gmail.com
ABSTRACT
Making satisfied customers is everlasting challenge for any service industry. This study reveals the contribution of restaurant attributes (RA) and customer perceived value (CPV) in shaping customer satisfaction (CS) in beach restaurants in South Coast, Sri Lanka. It studied the impact of different restaurant attributes (RA) in beach restaurants on CS and mediatory impact of CPV and suggested managerial implications to make more satisfied customers based on the findings. 385 tourists who have arrived beach restaurants in south coast to fulfil their dinning requirement have selected as sample by using the convenience sampling technique and self-administrated questionnaire was used to collect data. Five underlying factors were analysed under restaurant attributes; food and drink related attributes, ambience and atmosphere related attributes, price related attributes, location and place related attributes and service-related attributes by using SPSS software to identify the relationship of these restaurant attributes on customer satisfaction. All these attributes are positively associated with customer satisfaction in beach restaurants. To analyse mediator impact of CPV, Structural Equation Modelling technique has used through SmartPLS software. Based on the findings, CPV is playing a role of full mediator between the relationship of RA and CS. Based on the findings, restaurateurs can enhance customer perceived value through different unique restaurant attributes to make more satisfied customers.
Keywords: Beach restaurants, Customer perceived value, Customer satisfaction, Restaurant attributes
06. Nurturing Tourism Entrepreneurs with the Flavors of Affiliation Motive
D.I.H. Weerasinghe1 and M.A.Y.D. Madurapperuma2
1 Department of International Business, Faculty of Management and Finance, University of Colombo, Sri Lanka
2 Department of Business Economics, Faculty of Management and Finance, University of Colombo, Sri Lanka 
INFORMATION
Journal Title: Journal of Management and Tourism Research
Volume : 3 Issue : 2
Page : 60-73
Submitted: Nov 24, 2020; Revised: Dec 24, 2020; Accepted: Dec 18, 2020
Correspondence : yasantha@dbe.cmb.ac.lk
ABSTRACT
Despite the inherited tourist attraction that results in a large sum of foreign income to the economy of Sri Lanka, venturing new business in the tourism industry seems to be at a minimum stage. Perhaps this is due to the socio-economic and institutional environment which is inconducive for nurturing nascent entrepreneurs. Among other factors, starting-up new ventures are motivated by either need for affiliation or need for achievements depending on their laden values. Further, tourism-business is imbedded with some features of social businesses. On this background, this study attempt to explore the motivational factors that drive a person towards tourism entrepreneurship and whether the same motivational traits cause higher performance. Data were collected using survey design from a purposively selected sample of 53 that encompasses both tourism and non-tourism entrepreneurs. The MANOVA and multiple regression analysis results unveil that affiliation motive is significantly associated with tourism entrepreneurship whereas the need for achievement is highly associated with higher performance of SMTEs. In addition, theoretical contribution, implications, and limitation of the research are also considered and discussed.
Keywords: Tourism entrepreneurship, Tourism industry, Small and Medium-scale Tourism Enterprises (SMTEs), Affiliation motive, Achievement motive, The performance of SMTEs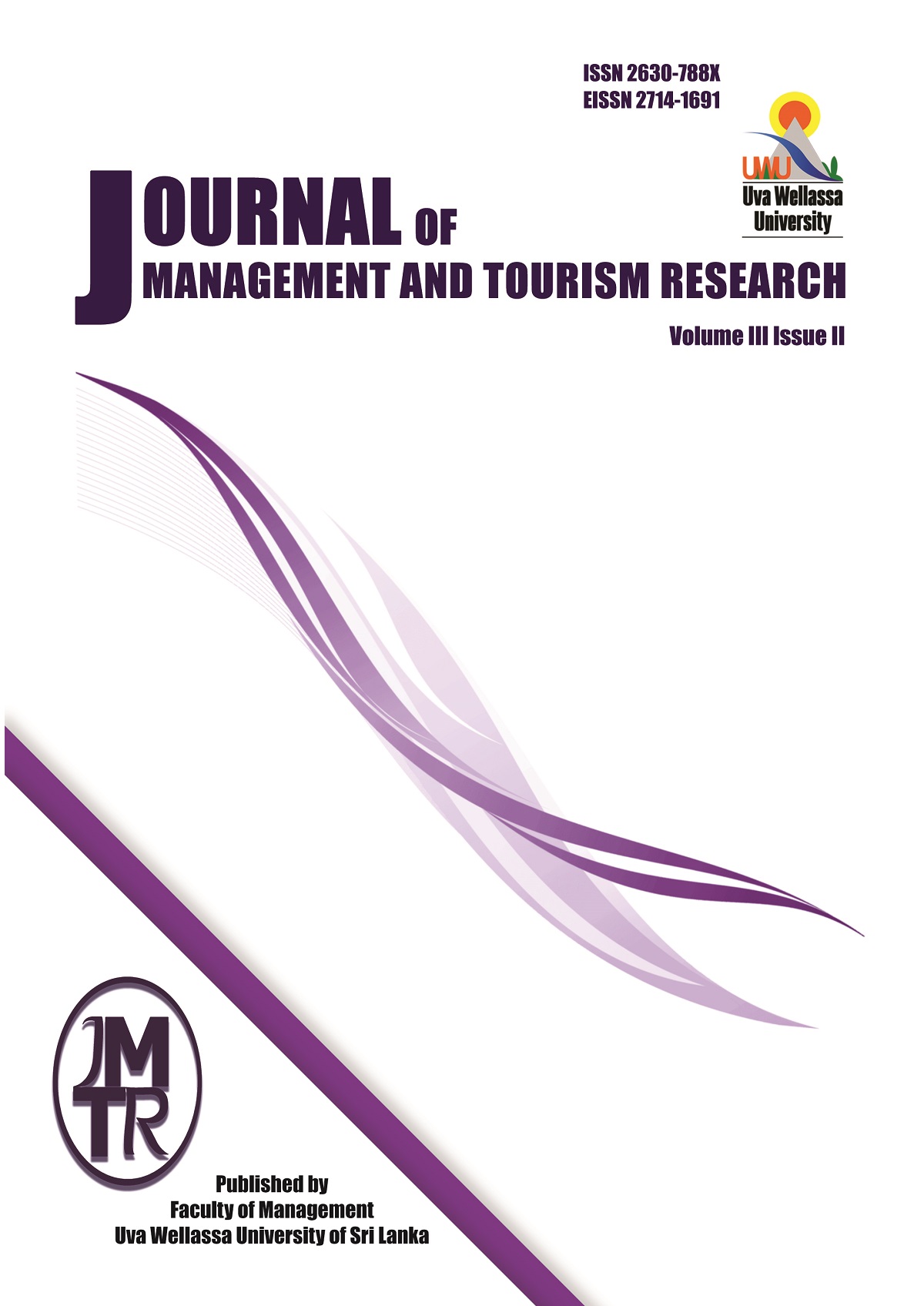 ---