---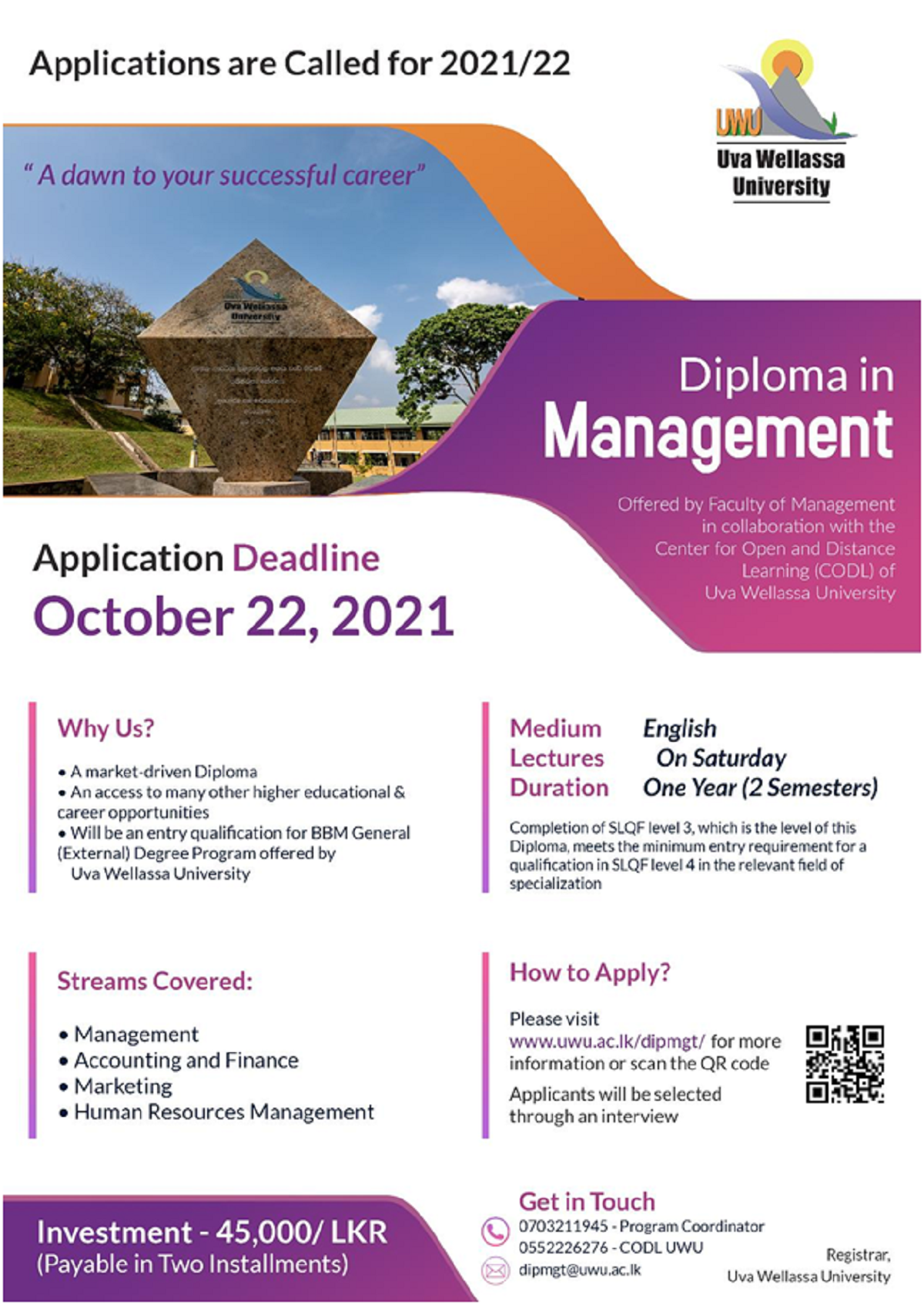 Calling Applications for Diploma in Management 2021/2022 –Uva Wellassa University
Offered by the Faculty of Management with the collaboration of the Center for Open and Distance Learning (CODL) of Uva Wellassa University. 
Streams Covered:
 Management
 Accounting and Finance
Marketing
Human resource Management
Completion of SLQF level 3, which is the level of this Diploma, meets the minimum entry requirement for a qualification in SLQF level 4 in the relevant field of specialization.
 Medium: English
Lectures: On Saturday
Duration: One Year (2 Semesters)
Eligibility Requirements 
To be eligible for the admission to the proposed Diploma in Management programme,
 The applicants require to get eligibility to enter the university (who receive 'Pass' as their final grade for the G.C.E.(A/L) Examination) and must have a good command of English. Having a Credit Pass (C Pass) or above in English for G.C.E. (O/L) Examination or G.C.E (A/L) Examination will be an added advantage.
OR
 The applicants who have not passed their G.C.E (A/L) Examination but have passed London A/Ls or any other advanced certificate comparable to GCE (A/L) Qualification or comparable to NVQ Level 4 with good command of English
 The applicants with the eligibility to enter the University (who receive 'Pass' as their final grade for the G.C.E.(A/L) Examination) and have not passed their G.C.E. (O/L) English Examination and General English Examination in G.C.E. (A/L) with a Credit Pass or above but have successfully completed a Certificate course or Diploma programme in English Language from a recognized institute
 Applicants who are not eligible for the university entrance (not received 'Pass' as their final grade for the G.C.E.(A/L) Examination for the university) but have successfully completed the acceptable professional course/s in the related field.
 The applicants who have successfully completed the Certificate in Business Studies of the Sri Lanka Technical College
 The applicants who have passed their G.C.E. (O/L) Examination and have minimum of three years experiences in any public/private organization with good command of English
 The applicants who have successfully completed the other related certificate courses, diploma and have fulfilled any other qualification that can be acceptable to the Senate of Uva Wellassa University of Sri Lanka to be considered to follow the Diploma in Management Programme
Course Fee: 45,000 LKR (Can be paid in two installments)
| | |
| --- | --- |
| First Installment | Rs 30,000 |
| Second Installment | Rs   15,000 |
Additional Payments
 Registration Fee :       Rs. 1,000.00
Selection Procedure :  Through an Interview
 * No Application Fee is included
Instructions to candidates:
           OR
Can send directly to "The Director, Center for Open and Distance Learning (CODL), Uva Wellassa University, Passara Road, Badulla, Sri Lanka by registered post mentioning "Application for the Diploma in Management Programme" on the top left corner of the envelop on or before 22nd of October 2021
Registrar
Uva Wellassa University
---